Crystal Head Vodka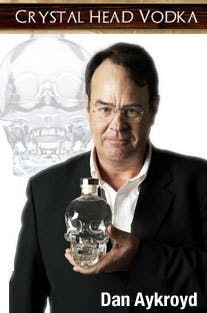 Unavailable
We're sorry, but this product is not currently available.
This 'Pure Spirit', vodka triple filtered through polished crystals known as Herkimer diamonds, free of additives, is exquisite any time of the year but perhaps ideal for October... Brought to us by Dan Aykroyd, known for his fascination with the invisible world, Crystal Head Vodka ties in with the story of the 13 Crystal Heads that have been unearthed at various times on our planet... from the Yucatan to Tibet. The Heads are believed to emit positive energy, good will and prosperity.

Crystal Head Vodka is perfect as a lone shot, chilled or served in signature cocktails. "Unlike most vodkas in today's marketplace that use additives, glycol, citrus and sugar to improve smoothness and flavor, Crystal Head Vodka is a pure spirit with no additives. It is quadrupled distilled and filtered three times through charcoal followed by triple filtration over Herkimer crystals from one of the planets rarest deposits of close concentrated semi-precious stones.