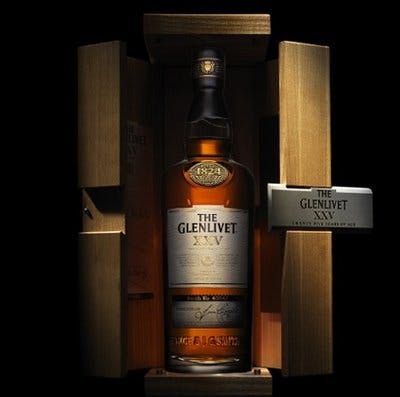 SKU: 13615
The Glenlivet XXV Single Malt Scotch Whisky 25 year old
---
Unavailable
We're sorry, but this product is not currently available.
---
AWARDS:
International Spirits Challenge:
Gold medal 2008

International Wine & Spirit Competition:
Silver medal 2007





THE GLENLIVET XXV 25 YEAR OLD
COLOUR
Rich amber with ripe gold hues.

NOSE
Without water: Intense, deep, creamy. The sherry immediately signs the aromatic profile with luscious fruity and spicy notes. Polished old oak floor. It's like walking into an antique shop. Enticing scents of exotic wood (sandalwood) with a touch of cedar. Cigar box. Creamier notes rise up, like wrapped up in a delicate oaky frame. Orange crème brûlée. Candied fruit (tangerine, pineapple). Pralines. Dundee cake with raisins soaked in whisky. On time, cider apples cooked in a cinnamon syrup. Hint of damp chalky cellar wall.

With water: Follows the pudding trail. More crème brûlée, more sweeties (pineapple and pear drops) and licorice.

RUBBED ON THE HAND
Dried flowers, freshly baked scones, a touch of dried leaves on a wet autumn morning.

PALATE
Without water: Silky, caressing. Sweet at start then releasing a full bunch of spices: ginger, cinnamon, allspice, nutmeg. The spicy screen then opens on exotic fruitiness. Roasted pineapple. Developing luscious dark chocolate and orange peel flavours.

With water: Gets minty (mint chocolate). The spices are tamed and toned down and the fruitiness is not so demonstrative. Orange notes survive though.

FINISH
Dry, spicy. Keeps teasing the taste buds all the way through and comes back on a sweeter fruity note.

COMMENT
A complex and perfectly balanced dram. A conversational character with a harmonious pitch. Oak is the vital lead but without being authoritative. Wood and fruit are intertwined in a spicy veil. The best that sherry could give is there. A perfect guest at the Christmas table, to be enjoyed with a thin piece of Dundee cake or an orange crème brûlée. Or just by itself, on a snowy evening, enjoying the depth and soothing harmony of Mozart Piano concerto N°21.