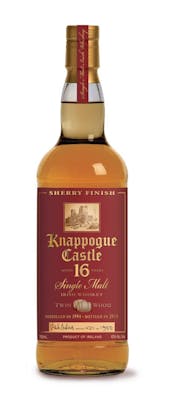 SKU: 15002
Knappogue Castle Twin Wood Irish Whiskey 16 year old
---
---

Age: 16 years in two types of wood:14 years in bourbon barrels; 21 months in sherry casks
Number of Bottles: Only 4,500 bottles produced. Each is numbered and signed.
Ingredients: Pure Irish spring water and malted barley
Alcohol Content: 40% ABV – 80 proof

Distillation & Selection Process: The malted barley is dried in ovens without the use of peat, allowing the crisp, clean flavor of malted barley to come through without smoky overtones. The dried malt is then ground and mixed with pure Irish spring water to extract the sugars. Single malt whiskies of Knappogue Castle are distilled three times in traditional onionshaped copper pot stills. The spirit is then placed in oak casks, formerly used for bourbon, stored at a relatively consistent temperature, and aged. After 14 years in bourbon casks, the whiskey forTwin Wood was selected by the Master Distiller for twenty one months of further aging in casks specially infused for Knappogue Castle using Oloroso Sherry, hence the name,Twin Wood. The delicate distillation process, along with the moist and temperate Irish climate, and the special aging in sherry cask, has yielded the distinctive flavor of the Knappogue Castle Twin Wood. It harkens back to its forebear, the legendary 1951 Knappogue Castle which was distilled in 1951 and aged 36 years only in sherry casks, before being bottled in 1987. The use of two kinds of wood casks in Twin Wood has produced a whiskey which has a deep, complex, and very smooth taste. Knappogue Castle Twin Wood is only lightly chill filtered and, unlike many whiskeys, no coloring is added.
Tasting Notes: The color is medium deep reddish gold. The aromas conveyed are: rich, fruity, nutty, malty. A mellow woodiness is slightly peppery with good age complexity. The taste is powerful and complex. A lovely balance of deep aged malty oils and fruity sherry flavors. Dusty dark chocolate and woody vanilla notes, with a slight peppery background and some sweetness. The finish gives a nice sherried, fruity maltiness, with some sweetness and dark chocolate lingering.
The mellow, light-bodied specimen is also among the most aromatic, scented with fresh apples, pears and vanilla. Although it's a Sherry-finished single malt, the Sherry characteristics aren't readily identifiable, there's just an oaky vanilla flavor that builds on the finish, accompanied by a little cinnamon spark. Only 1,900 bottles produced, all signed and numbered.