Dewar's The Vintage Blended Scotch Whiskey 18 year old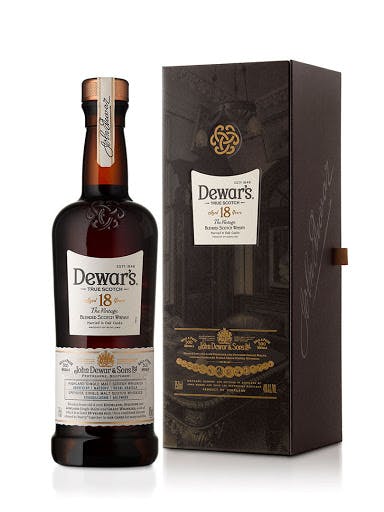 Only the very best 18 year old malt and grain Scotch Whiskies are chosen to create DEWAR'S 18 Year Old Founder's Reserve, Blended Scotch Whisky. Colour: Golden amber. Nose: A sweet and mellow aroma of butterscotch, gives way to subtle hints of almonds and marzipan with a delicate impression of vanilla for a well-balanced nose. Palate: Surprisingly, initially dry, giving way to a mellow soft sweetness with a lingering creamy mouth feel. Body: Full bodied. Finish: Long, lingering and slightly dry finish.
Wine EnthusiastThis golden blended Scotch is remarkably complex, showing creamy vanilla, crème brûlée and almond before tapering to dry, warm notes of cedar, sandalwood and clove. Finishes long and feather-light, with just a trace of smokiness.